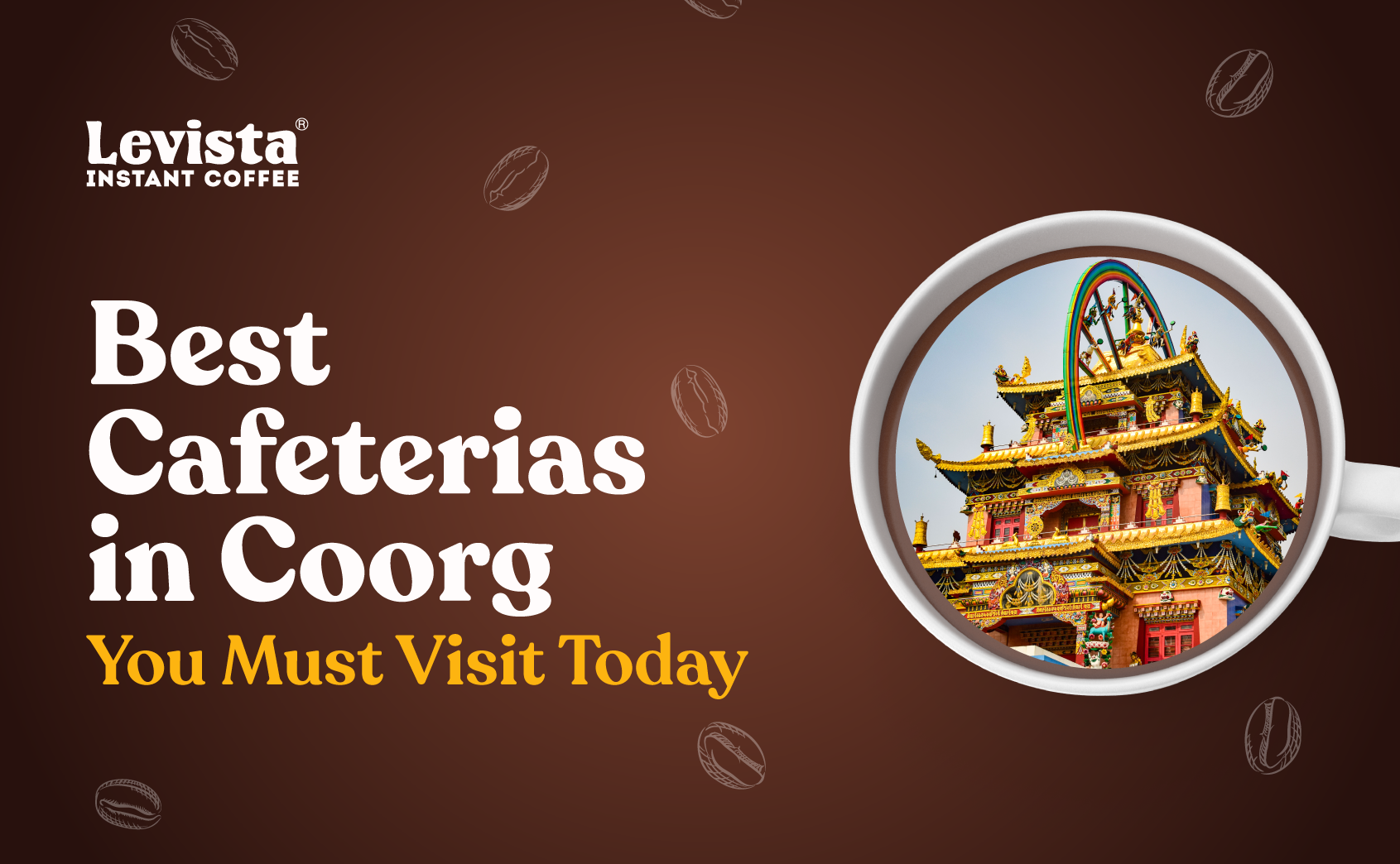 The charming hill station, known as the Scotland of India, has a foggy landscape of lush, gorgeous hills, gushing waterfalls, big plantations, aromatic spice gardens, and wonderful coffee. 
The area is well-known as a centre for culture in addition to its natural visual splendour. In Coorg, it is only fair that one samples the aromatic coffee that grows in profusion across this wonderful city. 
We will tell you some places off the hook where you can kick back and enjoy a cup of their best brews.
What goes Best with a Cup of Coffee? Another Cup
Do you want to find the best cafeterias in Coorg that provide a cosy ambience, the tastiest coffee, and meaningful chats with loved ones? Your quest is over because we have listed some of the best cafes in Coorg that will inspire you to explore and make you a coffee connoisseur.
So before diving into the topic, did you know that the term 'Procaffeinating' means the tendency not to start anything until you've had a cup of coffee? 
It's fascinating. Read through the blog to unravel some of the best cafeterias in Coorg that will enhance your mood, and help you explore places, to cherish a lifetime!
Let us explore several health benefits of having coffee, which are as follows: 
Health Benefits of having Coffee
Your body processes glucose (sugar) better

: According to studies, individuals who consume more coffee have a lower risk of developing type 2 diabetes.

You are less likely to develop heart failure:

One to two cups of coffee a day can help prevent heart failure, which occurs when the heart is too weak to pump enough blood to the body.

Health benefits:

In addition to lowering the risk of acquiring Parkinson's disease, caffeine may also improve movement control in those with the disorder. One in 23 women develops colon cancer. But researchers found that coffee drinkers — decaf or regular — were 26 per cent less likely to develop colorectal cancer.
Let us explore several best cafeterias in Coorg, where you can create the best memories to cherish lifetime by gorging in the city's best offerings in coffee: 
Best Cafeterias in Coorg You Must Visit Today
1. Cafe Levista
On your journey to Coorg or Kushal Nagar, you'll likely pass by our excellent coffee shop. It is one of the best cafeterias in Coorg. 
Speciality: Its rustic decor makes us one of the best rooftop cafés in Coorg, and as a result, the food served here is freshly prepared and organic. 
We also sell freshly packaged coffee beans. We have a live roasting demonstration with well-maintained amenities in the cafe. 

Although there is a large assortment of hot beverages and enticing mocktails, the collection of wine is the showstopper here. 
It is a great place to pause and relax with a cup of hot or cold coffee. Along with your drink, we also provide tasty food alternatives. 
It is close to the highway, making it convenient for travellers to stop by and enjoy a quick rest before a lengthy drive.
Address:

Next to SLN fuel station, Madapattana, Kushalnagar, Coorg

Call:

918276278122

Ratings:

3.5/5
2. Ainmane Cafe and Speciality Store
One-stop shop for a variety of coffee and other local items from Coorg! 
Speciality: They have a coffee tasting section for you to try the coffee before you buy them. 
They have a selection of chocolates, pickles, spices, honey, juices etc.! You'll all be in awe that such a little, low-key café can offer you such variety on the menu. It is one of the best cafes in Coorg. 
Who said that all healthy foods couldn't be tasty? You can all maintain your health and fitness at good Fare even after enjoying delicious cuisine. 
Address: College Rd, Mahadevpet, Madikeri, Karnataka 571201
3. Shanthi Coffee Works 
The menu card includes refined foods ranging from Continental to Indian specialities but is well known for its all-day breakfast, sweets, quick snacks, and coffee. 
This café is a great place to chat with your favourite and close friends. It is one of the best places for an authentic coffee experience. 
Speciality: You can chat with the friendly owner who divulges all he can about the coffee specials served here and also makes recommendations that would go down in your memory as some of the best caffeine trips you've had that will enhance your experience! 
It is one of the best cafes in Coorg that will offer moments that last a lifetime. 
Address: College Rd, Near Ram Mandir, Bhagavathi Nagar, Madikeri, Karnataka 571201
4. Trippers Resto Cafe 
Enjoy the various games while indulging in some of the best meals in the cafe's laid-back atmosphere while hanging out with your pals. The café offers a wide selection of board games for visitors to play. This trendy cafe is flocked to by both locals and tourists alike to catch up on some excellent coffee and conversation.
Speciality: They tried to create something distinctive with the interiors, such as an on-floor koi fish pond and tables made from tree trunks. The efforts raised it to a "wow" factor. 
Address: Trippers zone, 1/69, Mysore – Madikeri Rd, Kushalnagar, Karnataka 571234
5. Big Cup Cafe 
Belonging to a rich legacy of coffee cultivation, this little outlet set up by the Sandalkad estate owners is the perfect spot to engage in some peaceful time or exciting intellectual pursuits while savouring some steaming hot coffee poured from freshly harvested coffee beans. 
It comes from a long tradition of coffee production. When you're looking to have fun with friends or loved ones, this cafe, which is located in a rather attractive area, does not disappoint you.
Speciality: Big Cup Cafe is renowned for its excellent customer service and helpful staff that is always glad to help you. Try the delicious chicken pizza, pasta, and sandwiches this cafe offers.
Address: Madikeri Rd, next to Wood Stock Villa, Kannada Bane, Ibnivalvadi Rural, Karnataka.
Break Away your Monday Blues- with Levista Coffee!
Weekend withdrawals? Energise your Monday mornings with a steaming cup of Levista coffee! We are the secret ingredient that drives people to do more! It's impossible to express the enchantment of just one cup of coffee; Levista is a prime example; try some for yourself.
Levista has meticulously delivered the best of what the coffee industry offers into your cup for over 60 years. Only the best coffee beans are hand-selected by Levista from their estates in Coorg. 
Find unwavering dedication and quality in your next cup of coffee after it has been roasted, blended, ground, and processed!
What Makes us Special? 
Genuineness at its most flavorful: To preserve coffee's rich, authentic flavour, we produce our beans in the dense plantations of Coorg!

Finest coffee experience: Our coffee is made from the finest Arabica and Robusta beans and is 100% pure.
Fall in Love with Levista Coffee!
A long day of sightseeing in the town of Madikeri or shopping at the popular Friday Market calls for some unwinding with a good dose of caffeine to get you pumping again. Say no more because Cafe Levista has your back!
You might sensibly get along with our robust Indian blends or sip on their speciality lattes and cappuccinos. You can look through the various roasted coffee beans or the processed coffee powder we have for sale, which is legitimately farmed and produced in Coorg.
Because life is measured in spoonfuls of coffee, all coffee connoisseurs should stop fidgeting and move on to the best cafe in Coorg, your one-stop destination, for the best coffee. 
Which sweet is famous in Coorg?
Kuleputtu is a popular street food in Coorg, made from the sweet, juicy pulp found in banana leaves. The dish seved with a generous dollop of ghee (clarified butter) on top, adds to its flavour and richness.
Which month is best to visit Coorg?
October to May is the best time to visit Coorg, also known as Kodagu in India. The weather is pleasant during these months, with cool breezes and clear skies, making it ideal for outdoor activities such as trekking, wildlife viewing, and sightseeing.
Which wine is famous in Coorg?
There are over 32 varieties of pure Kodagu wine, both with and without alcohol, each with its distinct flavour and taste that Coorg is famous for.
Why is Coorg a famous attraction?
Coorg is famous across the world, spread with acres of plantations, cafes to visit, along with some sightseeing places worth a visit.
Which is the best cafe in Coorg?
Cafe Levista is one of the best cafes to visit in Coorg. Ranging from enticing coffee to the aromatic plantations, cafe Levista is a one-stop shop for all your favourite beverages.