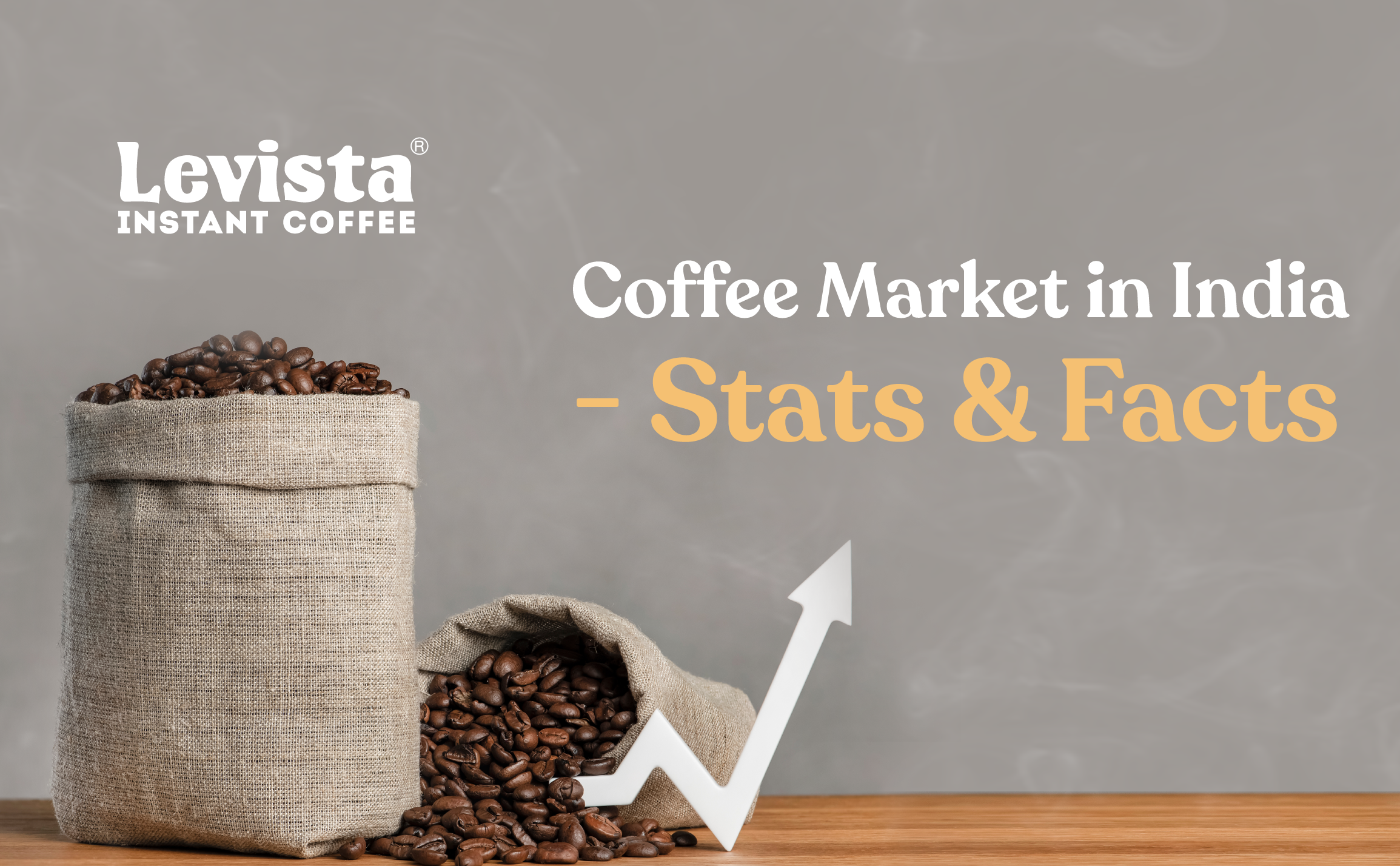 Why is Coffee Hyped by Everyone?
The coffee market of India is one of the most important worldwide interms of consumption and production. There has been an age-old saying that Tea is the favourite beverage of India, but nope. Tea is consumed by more people while the most preferred beverage is Coffee. 
Despite the fact that Indians have been growing coffee for hundreds of years, the first coffee seedlings were sown in the 1600s on the Chandragiri hills (now known as Baba Budan Giri), in the Chikmagalur region of Karnataka, by a saint named Baba Budan. Only in 1840 were coffee plantations built in and around Baba Budan Giri. 
Even today, coffee is primarily grown in the southern region of India. The majority of India's total coffee production, or around 70%, is produced in Karnataka. Kerala, which produces around 23% of all coffee, is the second-largest producer overall, but it is far behind. India produces 6% of its coffee in Tamil Nadu, the third-largest producer. The Nilgiri district, a significant Arabica growing region, produces about half of Tamil Nadu's coffee. The production is less in Orissa and the northeastern regions.
Production of Coffee in India
Brazil dominated the production and exports of coffee in 2020, while India came in seventh place. During the same time period, Vietnam was Asia's top producer of beans. India ranks third in Asia, behind Vietnam and Indonesia, and seventh overall in terms of export volume. Since 2017, the nation's production and exports have decreased as a result of heavy rainfall and flooding in the coffee-producing regions. However, the vast majority of the nation's coffee production is exported.
With around 3.5% of the global output in 2022, India will be one of the top 10 coffee-producing nations. Due to its excellent quality and high premium in the international markets, Indian coffee is among the best in the world. Both Arabica and Robusta varieties of coffee are produced in India. Due to its mild fragrant flavour, Arabica coffee has a higher market value than Robusta coffee. Because of its robust flavour, Robusta coffee is primarily utilised to create different blends. With a 72% production share, Robusta is the most widely produced coffee. More than 2 million individuals in India have direct employment as a result of the sector.
Indian Coffee at Global Market
More than 50 nations throughout the world are recipients of Indian coffee exports. With an average total share of nearly 45%, Italy, Germany, Belgium, and the Russian Federation are the top importers of coffee from India. The other nations that import coffee include Australia, Libya, Poland, Jordan, Malaysia, the US, and Slovenia. 
20% of coffee bean exports from India are sent to Italy, which is its top export destination. 42% of India's exports go to Europe, where consumers prefer the stronger, more bitter flavours of the Robusta blend. The Middle East region, which may be traced back to the Arabia regions, has a high demand for Arabica coffee blends. Russia, Poland, the USA, Turkey, and Malaysia purchased coffee preparations made in India in 2019–20 for a combined total of over US$ 141 million. Additionally, places like Chandel, Litan, and Nongmaiching Hills, which were previously thought to be unsuitable for coffee production, would see large-scale coffee production as a result of the Government of Japan's promise to buy all the coffee produced in the Manipur state. 
Germany received a 5% CAGR(Compound Annual Growth Rate) growth in green coffee bean exports from India between 2015 and 2019. Indian exporters are still concentrating on gaining a sizable market share for instant coffee in Poland and the USA. While coffee preparations exported to the USA expanded at a 9% CAGR, India is the third-largest supplier of coffee to Poland. 
Speciality coffee from India has gained popularity in recent years and attracted the attention of international coffee connoisseurs. Careful cultivation methods, a distinct origin, a routine of picking and specific processing, branding, handling, and look set specialty coffee apart.
India is the eighth-largest volume exporter of coffee, according to data from The Food and Agriculture Organization (FAO). Coffee exports from India exhibit seasonality, with export peaks occurring between March and June. More than 70% of the nation's produce is exported. The total exports increased by 42% to US$1.02 billion in 2021–22 from the previous year. Coffee exports reached a value of US$ 114.7 million in March 2022, a 22% increase from February 2022. The realisations of coffee growers in essential states like Tamil Nadu, Kerala, and Karnataka have improved as a result of this significant expansion in exports.
Did you know?
India is thought to now drink 120,000 tones of coffee annually.
Buy Coffee from Anywhere
Coffee Board of India
The Ministry of Commerce and Industry is in charge of the Coffee Board of India, which was founded in 1942. The board's main tasks include conducting research, offering financial aid, and promoting purchases in both domestic and foreign markets. 
The Coffee Board of India's Indian Coffee House introduced filter coffee to their menu in the 1940s, making it the preferred beverage for many Indians. Following the first one in Jabalpur, there are already 400 Indian Coffee House franchises spread out across the nation.
At the beginning of the twenty-first century, key players in the coffeehouse industry were Café Coffee Day, Barista, Costa Coffee, and Starbucks. A highly fragmented retail market results from the continued emergence of independent and regional outlets, mostly in urban centres.
Cafes and Scope for them
The consumer food service industry's fastest growing segment is the café chain sector, which is dominated by Cafe Coffee Day and Tata Starbucks and is predicted to expand 6.9% annually to Rs 4,540 crore by 2023 in value sales at constant prices excluding inflation.
Apart from these, coffee shops and merchants today attempt to give consumers the experience of choosing their own beans and brewing them using a variety of methods in addition to roasting and selling rich, creamy coffee. Aero press coffee competitions gave way to experience centres and coffee-related events as Indian coffee culture developed over time. The fact that India has started to hold its own National Barista Championships and the Fine Cup Award—two of the most prominent brewing contests hosted in the nation—over the past three years is the best illustration of this.
Best Coffee for your Coffee Cravings
There are many options for everyone to enjoy some wholesome coffee daily, but the best coffee produced should be carefully selected before processing. Levista coffee being one of the best coffee powders in India, provides every necessary coffee flavour that you would want to make your day better. As the number of coffee drinkers have risen up rapidly, the options are wide. Check out the most preferred coffee flavours in different sizes at Levista.
1.What does coffee do to your brain?
Caffeine causes relative brain hypoperfusion by increasing energy metabolism across the brain while simultaneously decreasing cerebral blood flow. Caffeine appears to impact the local release of dopamine by activating noradrenaline neurons.
2.What are the benefits of coffee?
According to research, drinking 2 to 5 cups of coffee daily has many health benefits: lower the risk of type 2 diabetes, heart disease, liver and endometrial cancer, Parkinson's disease, and depression.
3.Can I keep my coffee in the fridge or freezer?
No, freshly made coffee should never be kept in the refrigerator because it is damp and humid. After opening the coffee packet, your best hope for a tasty cup is to store it in the freezer.
4.How are flavoured coffees made?
Most of the time, flavouring oils are infused into coffee beans to create flavoured coffee. These oils may be created using natural oils, artificial flavouring agents, or a combination. Natural oils are derived from herbs, fruits, and spices, including vanilla beans, chocolate, almonds, and berries.
5.Does chicory make Coffee Stronger?
Chicory has a more roasted flavour than coffee, and because it tends to make coffee darker, the brew tastes stronger or more bitter which is the most preferred coffee for many people.