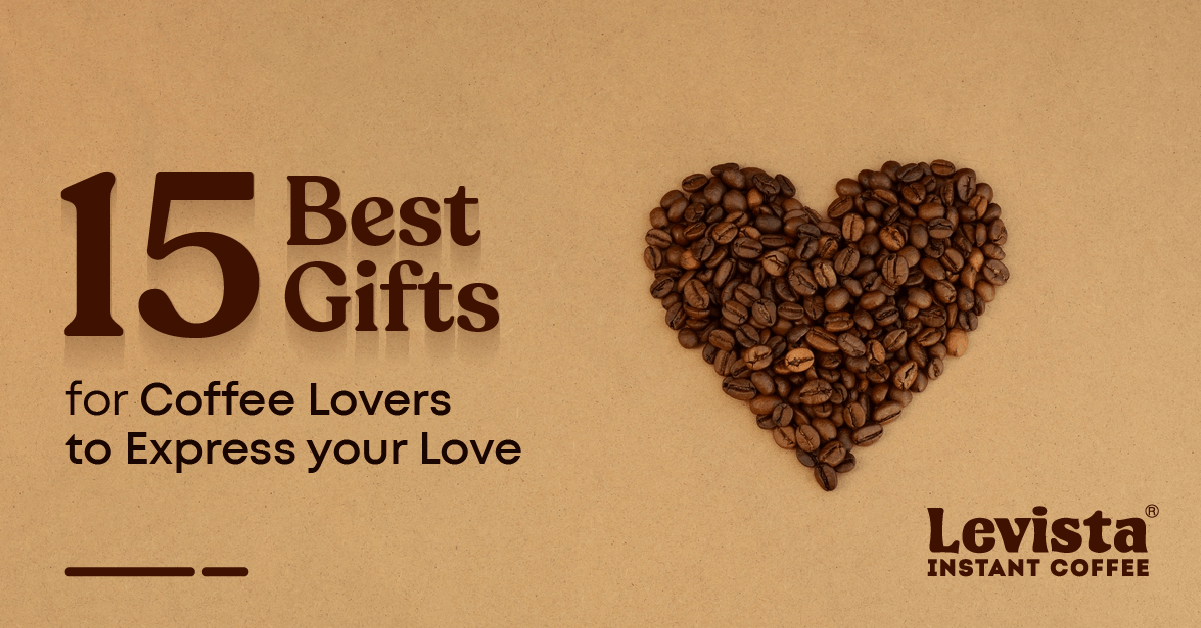 Introduction
Gift-giving is one of the truest ways to show your love, and when it comes to gifting coffee lovers, the list of gift options is endless. Be it some fresh and aromatic coffee beans or stylised coffee mugs, there is a lot to explore.
So, if you are brainstorming, here are some of the best gifts to express your love for them. Read the entire blog to know more about the best gifts for coffee lovers.
Tips on how to Pick the Best Gift for a Coffee Lover
Consider their taste preferences
Think about their brewing method. Do they like a drip coffee maker, a French press, or an espresso machine? This will help you to determine what kind of coffee-related product will be most appropriate to gift them.
If they're the type of coffee lover who already has everything, try to find something that is unique and different from what they already have to surprise and delight them.
Go for quality over quantity
When in doubt, choose quality over quantity when selecting a gift for a coffee lover. 
Are you willing to spend more and are you price-conscious? This will help you select a gift that fits within your budget.
Did you know?
Chikmagalur in Karnataka, India, is known as "The Land of Coffee."
15 Best Gifts for Coffee Lovers to Express your Love
1.
Levista coffee hampers
The best way to express your love to a coffee lover with a perfect gift is to give them the Levista coffee gift hamper. Levista offers a wide range of premium coffee grounds, which gives you the ultimate coffee experience. What else can beat this perfect gift!!  
2. Coffeemaker
A good coffee maker is an excellent choice for a gift for a coffee lover in your life. It is not only useful, but it is also a thoughtful and useful gift that will be appreciated. 
A high-quality coffee maker will satisfy their coffee cravings, whether a cup of espresso, cappuccino, or a classic cup of brewed coffee. Make sure to get one that brews perfectly and has a good filtration system.
3. Premium coffee beans
Nothing beats fresh, delicious coffee beans. Get your coffee lover a bag or two of their favourite variety, or try something new. You can even give them gifts like a pack of Levista coffee beans if that person is fascinated about premium brands. Coffee beans come in a variety of flavours and styles, making them the perfect gift for coffee lovers of any kind.
4. Stylish coffee mug
Give a nice mug or cup to your coffee-loving friend to make their morning special. There are different designs and styles available, and you can choose one that matches their personality and style. If you give it as a gift, it can have a very special and meaningful sentiment attached to it.
5. Personalised coaster
This is a sweet and practical gift for any coffee lover. Add a special touch by having their initials or a short message engraved on the coaster. These types of gifts will be cherished for years to come, making them a timeless reminder of thoughtfulness and love.
6. Gourmet-flavoured essence
Enhance the taste of coffee by topping it up with some delicious flavour essences like vanilla, hazelnut, or caramel. Yum! By adding flavour essences such as vanilla, hazelnut, or caramel to their cup of joe, coffee lovers can enjoy and have the ultimate coffee experience. 
7. Coffee-themed art
If someone likes coffee, then a painting, print or art related to coffee can be a great gift for them. You can make it personalized, and it can help to add some new colours to the decor of their home.
8. Coffee grinder 
An excellent coffee grinder is useful for people who love coffee and are always on the go. It helps them to have a freshly prepared cup of coffee anywhere, anytime. A coffee grinder is an ideal present for someone who is obsessed with coffee and wants every cup of coffee they drink to be as fresh and flavourful as possible.
9.
Travel mug
A nice travel mug is valuable for the coffee lover on the go. Get the one that complements their personality and style. A travel mug, whether it's a stainless steel mug with a cool design or an insulated cup in their favourite colour, is the ideal gift for any coffee lover.
10. Customised Gifts
Taking the extra step to gift someone special always makes both happy. People really appreciate it when someone makes an effort for them. Presenting a customised gift is one such way to express your love through gifts. A customised, coffee-related mobile phone case is one of the perfect gifts.
11. French press/ moka pot
A french press or a moka pot is a perfect gift for coffee lovers to enjoy their coffee using different brewing methods. A moka pot is a type of coffee maker that brews coffee, and it is known as a stovetop espresso maker. Moka pot produces a rich and strong coffee with a flavour profile. 
12. Coffee-scented candles
Coffee-scented candles have a calming and soothing scent, making them an excellent gift for your loved one. As coffee-scented candles have their own unique and intense aroma, they can be the ideal gift for any special occasion.
13. Coffee bathing set
A coffee bathing set, packed with the intense fragrance of coffee and skin benefits, is one of the best gifts to present to a coffee lover. Coffee has become more than just a beverage; it is a way of life for a coffee lover, thus making it an ideal gift.
14. Coffee-bean ice tray
Coffee-bean ice tray is one such must-have item, especially for a coffee lover who likes cold or iced coffee. It is a perfect gift as they could make iced coffee beans using coffee brew and use it in iced coffee. It gives them the look of whole coffee beans in their coffee.
15. Foam frother
Who doesn't enjoy a cup of frothy, foamy cafe-style coffee? A foam frother is an ideal gift for anyone who enjoys making thick, foamy coffee at home. A foam frother is an easy and convenient way to make cafe-style coffee at home. 
Express your Love with the Best Coffee 
Levista coffee gift hampers are the best way to express your love to the coffee lover in your life. Levista offers an extensive selection of premium coffee grounds, ensuring that you'll have the ultimate coffee experience.
We offer the finest beans that are carefully selected and roasted to perfection for a smooth texture and intense flavour. Our premium range of coffee is the best present to gift a coffee lover. 
So why wait? Order now! Visit our website to know more.
Conclusion
With so many different varieties of coffee and gifts related to coffee available, it can be hard to pick the ideal gift. This list of the 15 best gifts for coffee lovers gives you an idea and a list of possibilities that will depict your love and affection for the coffee lover in your life. 
These presents will delight any coffee enthusiast and enhance their coffee-drinking experience, ranging from coffee makers and grinders to unique mugs. Thus, whether you're looking for a gift for a friend or family member who enjoys coffee, these suggestions are sure to please. 


FAQs

What are some gift ideas for coffee lovers?
A coffee maker, coffee grinder, coffee mug, espresso machine, coffee beans, and French press are some of the best gifts for coffee lovers.
What are the best coffee makers for coffee lovers?
Some of the best coffee makers are French presses, espresso machines, and single-serve coffee makers.
What is a good gift for a coffee lover on a budget?
A French press, coffee mugs, and foam frother are some of the best affordable gifts.