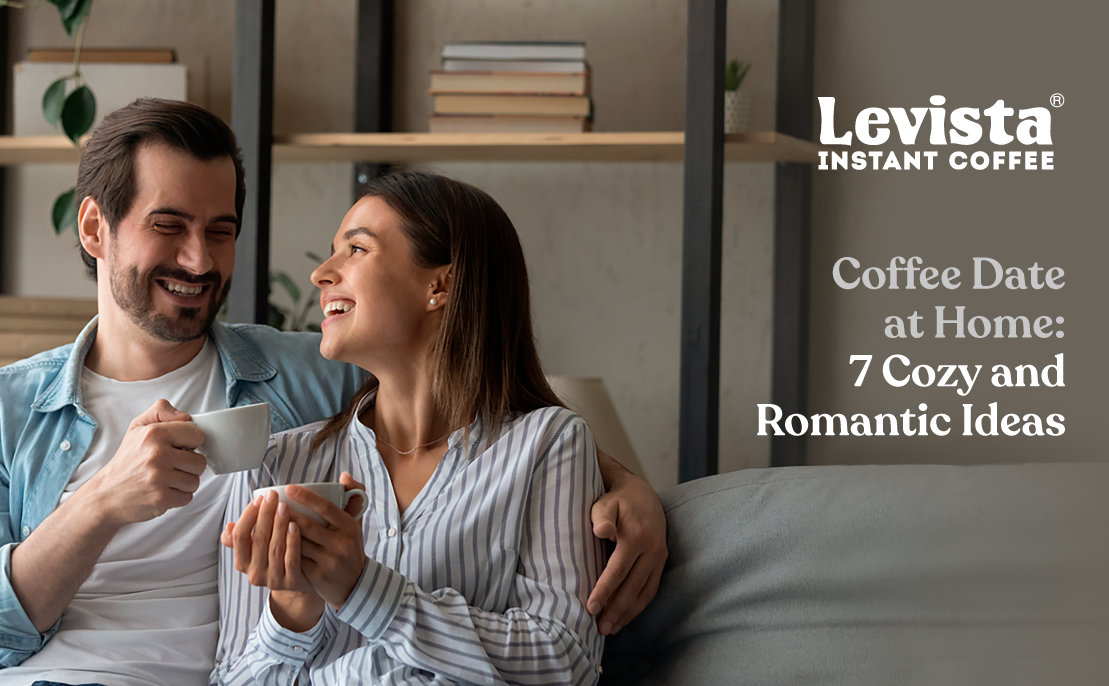 Introduction
If you are craving a dose of romance and cosiness without even stepping out of your front door, then a coffee date at home is something you should consider.
Picture this: the aroma of freshly brewed coffee wafting through the air, soft music playing in the background, and your favourite person right next to you, all in your own comfort. 
Whether you're in a long-term relationship or planning a special evening with someone new, a coffee date at home is the perfect way to create an intimate and enchanting atmosphere. 
In this blog, we'll explore seven romantic ideas that will transport you to a world of love, laughter, memories, and delicious coffee creations. 
And, of course, don't forget to stock up on Levista coffee for a more fulfilling coffee experience. 
How Do You Make A Romantic Date With Coffee?
Making a date out of coffee is actually a very simple but heartfelt gesture. When you are tired of stepping out for dates and simply want to chill in your pajamas with your partner, you can easily enjoy a romantic date with coffee. 
Warm or cold or even iced, a coffee date is an effortless and sure-shot way to have a good time with your loved one.
To create a romantic date with coffee, start by setting the ambience. Dim the lights, light some candles, and play soft music in the background. Then, focus on the coffee itself. Choose high-quality beans and brew a fragrant, flavourful pot.
You can also consider adding a touch of elegance by serving the coffee in beautiful, matching mugs or delicate china cups if you want to keep it fancy!
Pair the coffee with delicious treats like pastries or cookies and engage in fun conversations to create a cosy atmosphere.
Finally, add personal touches like handwritten love notes or surprise gifts. This small yet significant element will make your coffee date a truly romantic and memorable experience!
7 Ideas For A Coffee Date At Home
Now that you have decided to have a coffee date at home, here are some fun and innovative ideas you can explore!
1. A Movie Night with Cold Coffee
Enjoy a cosy movie night at home with a twist - pair it with cold coffee. Snuggle up on the couch, grab some blankets, and sip on refreshing cold coffee while enjoying some snacks and indulging in your favourite films. 
It's a low-key, low-budget date idea to relax and chill!
2. Bake a Coffee-Infused Cake Together
Bond over baking by making a delicious coffee-infused cake with your loved one. Combine the rich flavours of coffee into your homemade treat while enjoying the process of making it together. It's a sweet way to connect and satisfy both your dessert and coffee cravings.
Wondering how to make one? From cheesecakes to brownies, the options are endless! Check out our blog on recipe ideas for coffee-flavoured cakes.
3. Spa Day with Coffee-Inspired Products
Transform your home into a calm and quiet spa with coffee-inspired treatments. Use coffee grounds to make exfoliating scrubs or purchase rejuvenating coffee face masks. Relax and pamper yourselves while truly enjoying the aromatic essence of coffee.
It's the perfect date night idea if you want to unwind and de-stress without doing anything extravagant. 
4. DIY Latte Art
Get creative with your coffee by trying your hand at latte art. Practice frothing milk and pouring intricate designs on the surface of your homemade lattes. It adds an artistic touch to your coffee date and makes for impressive Instagram-worthy posts! 
If you and your partner would love to do something fun and new, this is a great date idea to explore art and coffee together!
5. Virtual Coffee Date
Even when physically apart, you can still enjoy a coffee date at your home. Set up a video call with your loved one, brew your favourite coffee, and chat virtually while sipping the beverage together. It's a great way to stay connected during a long-distance relationship and share moments despite the distance.
Pro tip: You can also order each other's favourite coffee drink from their favourite place to add a fun twist!
6. Date Night with Coffee Cocktails 
Add a dash of excitement to your date by mixing up coffee cocktails. Shake up creative recipes like espresso martinis or indulge in spiked iced coffee concoctions. Sip on these enticing beverages and let the delightful combination of coffee and spirits spice up your evening!
You can also enjoy a romantic candlelight dinner along with these cocktails for a more fulfilling date experience!
7. Games with Coffee Shots
Do you and your partner love playing some fun games? If yes, you would know that there are multiple drinking games out there like Never Have I Ever, Truth or Dare, Two Truths and a Lie or Flip Cup. This time, replace those drinks with expresso shots! This can add a lively twist to your coffee date and enhances the fun factor.
You can incorporate this idea with any type of game like video games, board games, and card games by taking a shot of espresso for every game point or milestone achieved!
Try Levista for a Wholesome Coffee Experience!
If you are a coffee lover who loves to drink coffee for breakfast, lunch, and dinner, then you deserve premium, high-quality coffee for a phenomenal coffee experience!
Indulge in the exquisite taste of Levista's premium coffee, meticulously crafted from specially selected beans grown on our Coorg estates. With a perfect blend of South-Indian flavours, our coffee is made from the finest Arabica and Robusta beans, ensuring an unparalleled experience for your refined palate.
Prepare to savour perfection with every sip!
Conclusion
If you love going on dates often but are not really in the mood to step out, a coffee date at home is something that you would enjoy. Be it making coffee-based recipes or just matching a movie with your favourite coffee drink, the options are endless.
With these seven coffee date ideas discussed above,  you can create a cosy, warm and enchanting atmosphere that beats all the cafes in town! And the best part? You can even do a virtual coffee date by watching a movie with your long-distance partner!
So, why wait? Grab your favourite mug, brew some delicious Levista coffee, and just chill with your partner. Trust us, it will be time well spent.
Here's to love, coffee, and unforgettable experiences! 
FAQs
Are coffee dates romantic?
Coffee dates can be romantic as they provide an intimate and cosy setting to connect and enjoy each other's company over a warm (or cold) cup of coffee.
How can I have a romantic date night at home?
To create a romantic date night at home, create a cosy atmosphere with soft lighting, comfortable seating, and romantic decorations. Prepare a special meal, set the mood with music, and add personal touches to make it memorable and special.
How can I make my coffee date more fun?
To make your coffee date fun, consider exploring new ideas like coffee tastings, DIY latte art, or coffee-inspired games. You can also try experimenting with different brewing methods or creating personalised coffee blends.
Which is better for recipes: instant or filter coffee?
Both of these can be used in recipes. Instant coffee is great for baking or adding a coffee flavour to desserts, whereas filter coffee is best for recipes that call for a strong coffee base or for preparing speciality coffee drinks.
What time is best for a coffee date?
While this depends on personal preferences and schedules, mornings and early afternoons are perfect for coffee dates in cafes. However, if you plan a coffee date at home, evenings and nights can be ideal as you can incorporate elements like dim lighting or pleasant music.