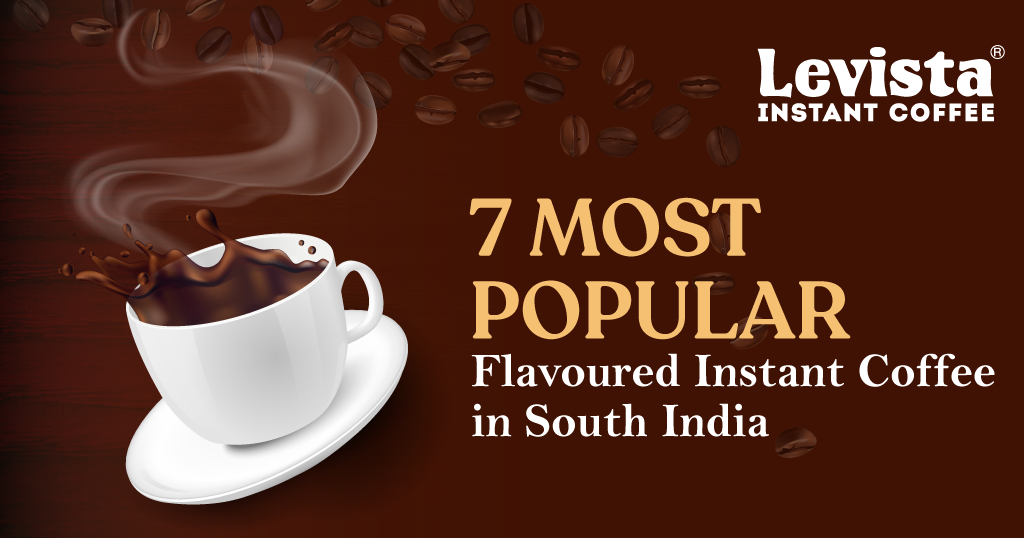 Introduction
Welcome to our blog, where we investigate the seven most widely used instant coffee powders in South India and delve into the aromatic world of coffee. South India, which is well-known for its robust coffee culture, offers a wide variety of instant coffee options that have won the hearts of coffee lovers all over the world. In this article, we take you on a tour of the delicious flavours and enticing aroma of these instant coffee granules. We give a handpicked selection that honours the best instant coffees cherished by South Indians, ranging from classic brands that have endured the test of time to cutting-edge mixes that offer a distinctive twist. 
Prepare to enjoy each sip! 
List of 7 most popular instant coffee powders in South India
Here is a list of enticing instant coffee powders you should try as a coffee connoisseur. You can also include these in your daily coffee regime. 
1. Levista 
If you are a true coffee connoisseur, you must be aware that the type of coffee beans used and how they are roasted can greatly impact how the beverage tastes and smells. Levista coffee powder comes into play at this point. Levista only uses the best coffee beans, which are carefully chosen from our coffee plantations in Coorg. These beans' rich, robust tastes are then expertly roasted, producing a consistently superb cup of coffee. 
Levista coffee powder is easy to use and can be customised to your tastes, whether you want a robust, intense flavour or a softer, more delicate flavour. You may have a delicious cup of coffee anytime and wherever you like with Levista. 
Types or flavours available: Levista comes in premium, classic and strong flavours in instant powders. 
2. Continental coffee
Continental Coffee is the pinnacle of luxury, awakening the senses with each sip. A coffee brand that crosses boundaries, it enchants with its charm and dances on taste receptors. A variety of flavours, painstakingly gathered from the best coffee beans, may be found within its little instant coffee powder. 
A symphony of aroma orchestrates as hot water envelops the granules, infusing the air with a harmonious song. This powdered elixir has the ability to take you to far-off places with each drink, whether you prefer powerful espressos or smooth cappuccinos. Accept the enchantment that only Continental Coffee can impart, and let your coffee-drinking experience soar to the stars. 
3. Narasus coffee
In the realm of coffee mastery, Narasus Coffee stands tall, a beacon of excellence and a sanctuary for discerning coffee aficionados. With their instant coffee powder, they weave a tapestry of flavours that captivate the senses. Each granule holds the essence of a thousand sun-kissed coffee beans, carefully cultivated and expertly roasted.
As hot water cascades upon the powder, it awakens a symphony of intoxicating aromas, swirling in the air like a clandestine dance. From the first sip, a harmonious balance of richness and smoothness unfolds, transporting you to a world where time slows, and pleasure reigns. Narasus Coffee, the elixir that transcends mere coffee, is an invitation to indulge in the divine.
4. Sunrise coffee
Embracing the golden dawn, Sunrise Coffee brand radiates pride, symbolising the triumph of craftsmanship and passion. Their instant coffee powder, a testament to their unwavering commitment to excellence, unlocks a world of enchantment in every cup. 
Born from meticulously selected coffee beans, each granule carries the whispers of faraway lands, enticing the senses with its fragrant embrace. As the water embraces the powder, a symphony of flavours dances upon the tongue, awakening a blissful harmony. With each sip, Sunrise Coffee transcends time and space, igniting a fire within, inspiring dreams, and infusing the spirit with a renewed zest for life. Experience the essence of daybreak with Sunrise Coffee, an elixir that embodies the beauty of new beginnings.
5. Nescafe
A well-known brand in the coffee industry, Nescafé, provides a delicious selection of instant coffee powders that give convenience and robust flavour to coffee lovers. Nescafé has spent decades perfecting the skill of distilling the flavour of speciality coffee beans into their instant formulas. Whether it's the traditional Nescafé Original or one of their many flavour variations, every cup has a pleasant scent and a tasty, well-rounded flavour. 
The instant coffee powders from Nescafé are a popular option among coffee drinkers all over the world since they are the ideal solution for people looking for a quick and hassle-free coffee experience without sacrificing quality. 
6. Bevzilla
Bevzilla is a coffee brand that takes pride in its instant coffee powder. Made from the finest Arabica beans, Bevzilla coffee is slow-roasted to perfection and then blended with date palm jaggery. This natural sweetener gives the coffee a rich caramel flavour. This ensures every cup of Bevzilla coffee is full of rich flavour and aroma, just like a freshly brewed cup.
7. Sleepy owl
Nestled within the realm of dreams, Sleepy Owl Coffee brand casts its enchanting spell, beckoning weary souls to awaken their senses. Like a nocturnal muse, their essence is captured in every bag of their exquisite coffee beans. Roasted with love and devotion, these beans hold the power to ignite the spirit even in the darkest hours. 
With their instant coffee powder, a single sip transports you to a realm where time slows, and dreams come alive. The rich aroma permeates the air, weaving a tapestry of flavours tantalising the taste buds. Surrender to the allure of Sleepy Owl Coffee, where each cup becomes a gateway to a world of nocturnal bliss. 
Easy Instant coffee recipe 
Here's a step-by-step recipe for a quick and delightful instant coffee:
Boil water in a kettle or saucepan.

In a mug, add a spoonful of instant coffee powder.

Add sugar according to your taste preferences ( you can also add brown sugar if you prefer a healthy choice).

Pour a small amount of hot water into the mug and stir vigorously until the coffee and sugar dissolve.

Fill the mug with hot water, leaving space for milk or cream if desired.

Stir again to ensure all ingredients are well mixed.

Optional: Add a dash of milk or cream for extra flavour.

Enjoy your delicious cup of instant coffee!
Takeaway
We explored the list of instant coffee powders available in South India because there is no denying the region's affinity for instant coffee. Everyone who likes coffee will find something in South India, from traditional brands' earthy and robust flavours to creative and distinctive blends. 
These 7 instant coffee powders have been chosen carefully to satisfy various palates, whether you want a powerful and potent cup of coffee or a softer and more complex taste. So go ahead and enjoy these well-liked instant coffees while they're convenient and enjoyable, and take your coffee drinking to new heights. Cheers to a tasty cup of instant coffee from South India!
FAQs
Which instant coffee is best in taste?
The most loved instant coffee in South India is Levista coffee. It offers three different instant coffee types: Premium, Strong and Classic.
Why is coffee famous in South India?
South Indians were the first to adopt coffee as their daily beverage, while the rest of the country leaned more towards tea. It may be Filter or instant coffee, but the preference was
Which city is known as the coffee city of India?
Coorg, Karnataka, is a place known for coffee in India as it contributes to a humongous amount of coffee in the country.
Which state is no 1 in coffee?
Karnataka produces a huge amount of coffee in the country, including India's large coffee-producing region, Coorg, also known as Kodagu.
Which coffee is best for daily use?
The most popular coffee you trust to use in your everyday routine is the Levista coffee. Three distinct varieties of instant coffee are available: Premium, Strong, and Classic.