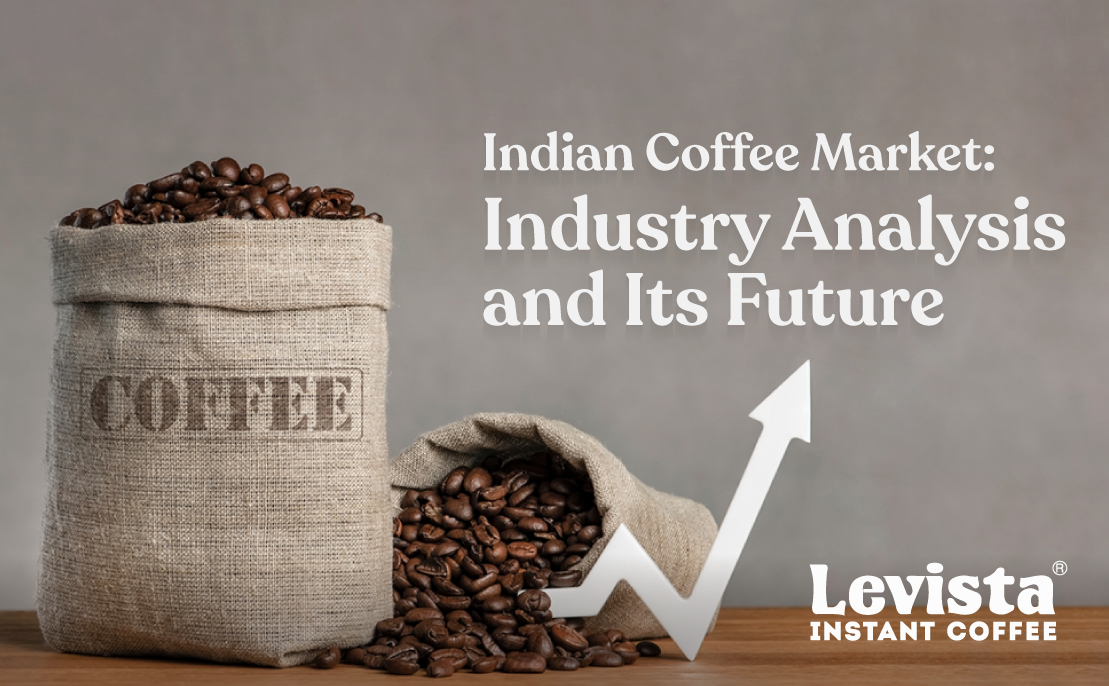 Introduction
Coffee has been a beloved beverage in the western world for ages, but its popularity extends far beyond those borders. The demand for this delicious drink is at an all-time high worldwide, and India has long been a significant producer, consistently ranking in the top 10 coffee-producing countries. 
In this blog, we'll check out the business growth of the Indian coffee market, exploring both the export and import potential of Indian coffee.
 Do you know?
Robusta is a majorly manufacturing coffee brand in India, with almost 72% of total production. 
Coffee is majorly an export commodity; therefore, the demand and consumption of coffee in India do not affect the price factor.
Indian coffee is among the best in the world and a highly sought-after product in foreign markets due to its exceptional quality. Robusta and Arabica are the two varieties of coffee produced in India. Strong-flavoured Robusta coffee is used to create a variety of mixes and flavours. 
On the other hand, high-value Arabica coffee is renowned for its delicate fragrant qualities.
Overview of the Indian Coffee Industry
The bulk of coffee production in India occurs in the southern region. 
Karnataka is the dominant player, contributing around 70% of the total coffee output. 

Kerala ranks second, but its share of the production is much lower at approximately 23%. 

Tamil Nadu comes in third place, responsible for 6% of the total coffee production in the country. 
The Nilgiri district in Tamil Nadu is a significant Arabica growing area, accounting for nearly half of the state's coffee production. Other regions, such as Orissa and the northeastern areas, have a relatively minor share of coffee production in India.
The Evolution of the Coffee Era in India
Initially, the focus of coffee production in India was mainly on exports, and the country was a significant provider of coffee to the worldwide market. However, in the 1950s, the Indian government implemented policies to promote coffee consumption within the country, contributing to domestic coffee culture's emergence.
Types of Coffee Production in India
The majority of the coffee produced in India, which is currently the sixth-largest coffee producer in the world, is of the Arabica and Robusta kinds. 
With each location making coffee with a different taste profile, the Indian coffee industry is renowned for its distinctive flavours.
The Indian coffee industry has come a long way since its inception and continues to evolve to meet the changing demands of both the domestic and global markets.
Largest Coffee Producer State of India
Almost 70% of all coffee produced in India is produced in the state of Karnataka, which dominates the market. Karnataka produced 2.33 lakh metric tonnes of coffee in the preceding fiscal year, the most of any state in India. 
Importantly, approximately 1.58 lakh metric tonnes of Robusta coffee comprised most of this production. Karnataka further generated 74,755 metric tonnes of Arabica coffee.
State/District

Post Monsoon Estimate 2022-2023





                      

Arabica

Robusta

Total

Karnataka

 

 

 

Chikkamagaluru

37,875

47,280

85,155

Kodagu

19,220

113,400

132,620

Hassan

15,850

20,950

36,800

Sub total

72,945

181,630

254,575

 

 

 

 

Kerala

 

 

 

Wayanad

0

61,950

61,950

Travancore

900

8,150

9,050

Nelliampathies

1,100

1,650

2,750

Sub total

2,000

71,750

73,750 

 

 

 

 

Tamil Nadu

 

 

 

Pulneys

7,950

490

8,440

Nilgiris

1,175

4,450

5,625

Shevroys (Salem)

3,925

0

3,925

Anamalais 

(Coimbatore)

800

550

1,350

Sub total

13,850

5,490

19,340
Reference for the table is from Coffee Board of India (indiacoffee.org)
Coffee Consumption in India
In recent years, India's consumption of coffee has been continuously rising. Coffee has significantly increased in popularity among younger generations and urban populations, even if tea continues to be the nation's most widely consumed hot beverage. 
The main coffee-producing states in India are Karnataka, Tamil Nadu, and Kerala in the south. The northeastern regions also produce a sizable amount of coffee. With many young professionals and college students frequenting these places, coffee shop chains like Café Coffee Day and Starbucks have helped to expand India's coffee culture. While making classic filter coffee is still a common practice, other coffee varieties like cappuccinos and lattes are becoming increasingly popular.
Coffee Consumption Based on the Rural and Urban Areas of India
Coffee Consumption in India Based on State
Industry Analysis
The Indian coffee market has seen significant growth over the past few years, driven by increasing demand from both domestic and international consumers. 
The industry is valued at approximately INR 25,000 crore and is expected to grow steadily in the coming years.
Increase in Coffee Demands in India 
One of the major factors driving the growth of the Indian coffee market is the increasing demand for speciality coffee. With consumers becoming more discerning about the quality and origin of their coffee, speciality coffee has emerged as a significant growth area for the industry. It has led to the emergence of several speciality coffee shops and roasters in major cities across India.
Another factor driving growth in the Indian coffee market is the increasing popularity of coffee among younger consumers. As more and more young people in India adopt a more Western lifestyle, coffee has become an essential part of their daily routine. It has led to the growth of coffee shops and cafes in major cities nationwide.
Export Trends of the Coffee Industry in India
As the world's most favoured beverage, coffee is prominent globally. In 2020, the coffee market worth exceeded US$466 billion. India, a significant player in this industry, mainly exports Robusta coffee beans, known for their low acidity and high bitterness compared to Arabica coffee. 
Besides green coffee beans, India's export basket includes various coffee preparations, including instant coffee, constituting around 31% of the exports. Instant coffee alone contributes to almost one-third of India's coffee exports. 
Do you know?
In the 2021-22 fiscal year, the nation exported over 70% of its products, with a total export value of US$1.04 billion, representing a 42% increase from the previous year. Specifically, coffee exports experienced a 22% increase from February 2022 to March 2022, reaching US$114.7 million.
Over the past decade, instant coffee exports have witnessed a CAGR of 4% until FY20, depicting the growing demand for convenient and easily accessible coffee products.
The export business of coffee beans is only drastically increasing year by year. Here is a chart depicting the growing trends of export reach of Indian coffee. The business growth of coffee exports looks immeasurably profitable.
The Overall Growth of the Coffee Export in Market of India



Import Trends of the Coffee Industry in India
The Indian coffee market has seen a rise in imports, with the nation becoming the 42nd largest coffee importer globally in 2020 with $109 million worth of imports. But it's fascinating to notice that among the most imported goods into India, coffee only comes in at number 345. 
Vietnam, Uganda, Indonesia, Cote d'Ivoire, and Brazil are the countries that supply the majority of the coffee that is imported into India. Significantly, with an increase in imports of $8.87 million between 2019 and 2020, Indonesia has become India's fastest-growing import market for coffee. 
In a similar vein, imports from Brazil and Uganda have increased significantly as well, by $5.38 million and $3.7 million, respectively.
Top Countries to Export Coffee Worldwide
India's coffee industry is witnessing steady export growth. Italy, Germany, Belgium, and the Russian Federation are the largest importers of coffee from India, accounting for about 45% of the total share. 
The bitter and more assertive flavours of the Robusta blend are preferred in Europe, which makes up 42% of India's coffee exports, with Italy alone accounting for 20% of bean coffee exports.
Indian exporters are also focusing on building a significant market share in Poland and the USA for instant coffee, with India being the third-largest exporter of coffee to Poland. Furthermore, coffee preparations exported to the USA have grown at a CAGR of 9%.
Despite facing challenges such as competition from other coffee-producing countries, climate change, limited availability of suitable land, and fluctuating prices in the global market, the Indian coffee industry has immense growth potential.
Did you know?
Initiated by the Government of India, subsidies ranging from US$ 2,500-US$ to 3,500 per hectare have been provided to farmers to develop coffee in traditional areas.
With the increasing demand for speciality coffees and organic coffee products, along with the potential to increase domestic consumption of coffee by creating awareness and developing a coffee culture in India, the coffee industry is poised for a bright future. The use of technology and innovation in coffee farming, processing, and distribution can improve efficiency and quality, while sustainable and ethical practices can meet the growing demand for socially responsible and environmentally friendly products.
Overall Growth Potential 
The Indian coffee industry is expected to grow by leaps and bounds, with the potential to tap into new markets and develop new products. With a focus on sustainability, quality, and innovation, the coffee industry is set to become a significant contributor to India's economic growth.
Challenges and Opportunities
Recently, a renewed focus has been on sustainable coffee production practices, with initiatives to promote organic and shade-grown coffee. There are specific challenges faced in India that affect the coffee industry and business growth in India.
Coffee-producing nations like Brazil, Vietnam, and Colombia compete directly with us.

The Indian coffee business has survived despite unpredictable weather, pests, and low yields.

Land that is appropriate for growing coffee is scarce.

Due to antiquated methods and inadequate infrastructure, coffee cultivation experiences low productivity and quality problems.

Fluctuating prices impact the profitability of coffee farmers and exporters on the world market.

Absence of promotion of Indian coffee brands and goods through marketing campaigns.

Possibilities to capitalise on the rising interest in speciality coffees and organic coffee products.

By raising awareness and fostering a coffee culture in India, there is the potential to enhance domestic coffee consumption.

Coffee growing, processing, and distribution should use more innovation and technology to boost productivity and quality.

It creates ethical and sustainable coffee production methods to satisfy the rising demand for socially and environmentally responsible goods.
Future Outlook
The coffee sector is anticipated to create US$0.92 billion in revenue in 2023, with an annual growth rate of 2.06%. (CAGR 2023-2025). With revenue of US$95,580.00m in 2023, the United States will dominate the international market. In 2023, each person is anticipated to contribute an average of US$0.65 to the revenue. 
By 2025, spending on out-of-home consumption is expected to represent 54% of total spending and 6% of total consumption. By 2025, the Coffee segment is expected to have a total volume of 50.68 million kg, growing at a 2.3% annual rate. The typical person is projected to consume 0.03 kilogram of coffee by 2023.
Best Indian Coffee to Hop on to for All Coffee Lovers
What sets Levista Coffee apart is its focus on sourcing high-quality coffee beans from the best farms across the country. The brand prides itself on using only 100% Arabica beans, which are handpicked, sun-dried, and roasted to perfection, resulting in a rich, flavorful, and aromatic coffee.
Not only do we excel in quality and sustainability, but we also offer a wide range of coffee blends and flavours to cater to diverse tastes. There is something for everyone, from medium to dark roasts, single-origin to blends, and even decaf options.
To Wrap Up
In conclusion, Levista coffee stands out as the best coffee brand in India due to its commitment to sourcing high-quality coffee beans, sustainable practices, transparency, and a diverse range of flavours. A cup of Levista Coffee is a soothing, refreshing beverage that reflects the brand's values and dedication to providing a superior coffee experience.
The states of consumers who consume Levista coffee is so satisfying and contending. There are several repeat customers, and word of mouth plays the play here. So, you know what to rely on than any other source.
FAQs
What is the Coffee Board of India?
The Coffee Board is a legally established body formed in accordance with Section (4) of the Coffee Act of 1942. It operates under the jurisdiction of the Ministry of Commerce and Industry, which is part of the Government of India.
What is the distribution of the coffee industry in India?
The coffee industry in India is predominantly concentrated in the southern states of Karnataka, Kerala, and Tamil Nadu.
What is the trend of coffee consumption in India?
During the financial year 2022, India's coffee consumption totalled 1.21 million bags of 60 kilograms each.
Is the coffee industry growing or declining?
The market is anticipated to expand by 63.16% over the following four years (CAGR 2022-2025)
How big is the coffee market in India?
As per Statista's findings, the coffee industry in India is valued at $808 million and is projected to exhibit a compound annual growth rate (CAGR) of 8.9% from 2020 to 2025.