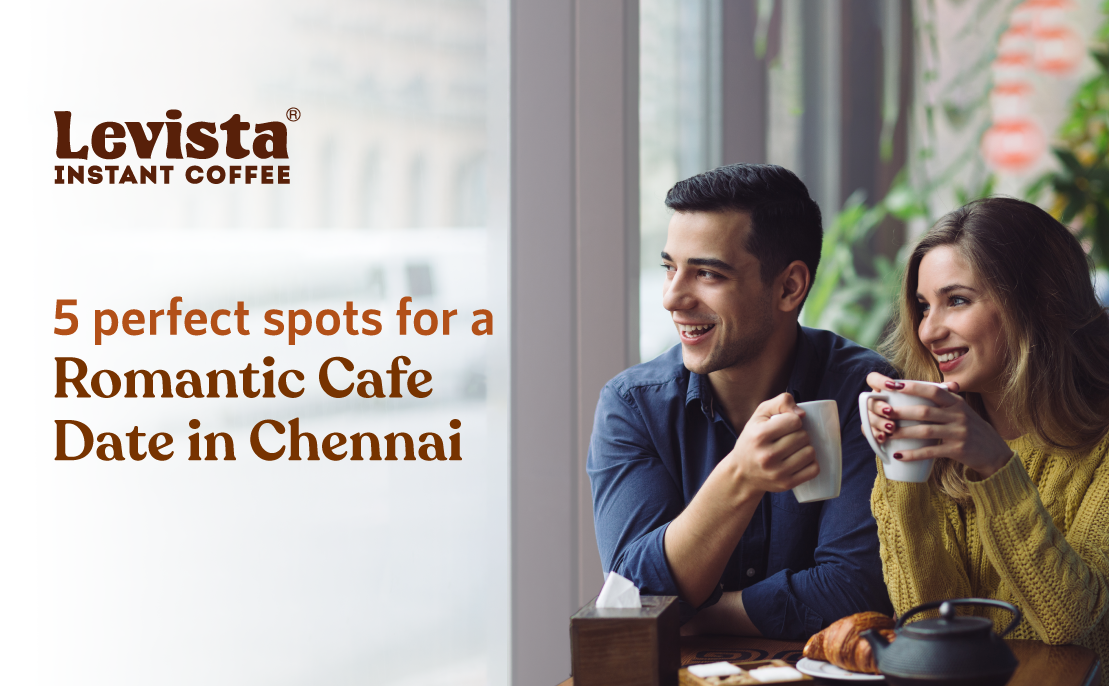 Introduction
Looking for a cosy and romantic spot to enjoy a delightful cafe date in the vibrant city of Chennai? Look no further! 
Chennai's bustling cafe culture offers numerous charming destinations for couples seeking a memorable experience. Whether you're celebrating a special occasion or simply want to spend quality time with your loved one, these five perfect spots for a romantic cafe date in Chennai are sure to captivate your hearts. 
From enchanting ambience to scrumptious treats, each cafe on our list has its own unique charm, promising cherished memories. 
So, are you ready to enjoy a warm cup of coffee with your date?
Dating 101: Why Are Coffee Dates So Special?
Coffee dates have become a staple in the world of dating, and for a good reason. There is something inherently special about meeting someone over a cup of coffee. 
It provides a casual and comfortable atmosphere that encourages conversation and connection. The simplicity of a coffee date allows you to focus on getting to know each other without the distractions of an elaborate setting or a formal meal. It's an opportunity to engage in meaningful dialogue, share stories, and discover common interests. 
Moreover, the aroma of freshly brewed coffee creates a warm and inviting ambience that enhances the overall experience. 
So, whether it's a first date or a regular outing with your partner, coffee dates offer a unique charm that can set the stage for a romantic and memorable connection.
5 Romantic Cafes in Chennai
1. Chamiers Cafe, R.A. Puram
Chamiers Cafe is a stylish vintage-style cafe that serves up a delightful array of international dishes, salads, and breakfast options. With its low-light lamps, cosy cane furniture, and inviting ambience, it creates a warm and classy atmosphere. 
From English breakfast to various brunch choices and continental foods, this calm and vibrant place is perfect for a romantic dining experience with your date.
Where: New # 106, Old # 79, Pasumpon Muthuramalinga Thevar Rd, Chennai, Tamil Nadu 600028
Price for Two: Rs. 1200 (approx)
Must-Try: Bruschetta Platter, Carbonara, Blueberry Cheesecake
2. The Brew Room, Mylapore
Enjoy European-style breakfast, lunch, and beverages at The Brew Room in Savera Hotel. With its white-walled decor and outside seating, it is a beautifully decorated garden with a fairytale-like ambience. The high ceilings and ample distance between tables create a comfortable and cosy atmosphere. 
If the weather is pleasant, don't miss the opportunity to enjoy a beautiful date at The Brew Room's outdoor cafe.
Where: 146, Dr Radha Krishnan Salai, Mylapore, Chennai, Tamil Nadu 600004
Price for Two: Rs. 1300 (approx)
Must-Try: Hot Chocolate, Feta Cheese Salad, Souffle Omelette
3. Surf Turf, Kovalam
Why not make your date more romantic by taking a long drive and dining in an outdoor beach-facing cafe? That's right, Surf Turf is the perfect date spot on a pleasant afternoon or a chilly evening. 
Located at Covelong Point, this Italian restaurant offers stunning views of the Bay of Bengal. The restaurant specialises in seafood and steak dishes with a relaxed and laid-back ambience. It's THE spot to indulge in delicious cuisine while enjoying the picturesque coastal scenery.
Where: Plot No. 10, Pearl Beach, Ansari Nagar, Kovalam, Tamil Nadu 603112
Price for Two: Rs. 1500 (approx)
Must-Try: Chicken Steak, DIY Pasta, Sea Foods
4. Bread and Chocolate, Alwarpet
Bread and Chocolate in Chennai is a charming bakery and cafe with beautiful decor and a comforting atmosphere. They serve artisan and nutritious food of the highest quality, including classics like sourdough, croissants, and sandwiches.
It's a great place for a lively breakfast date or a relaxing coffee date in the evening. Don't forget to ask for their every day special treats!
Where: 25, 2nd Cross Street, 11, Cenotaph Rd, Sri Ram Nagar, Alwarpet, Chennai, Tamil Nadu 600018
Price for Two: Rs. 1200 (approx)
Must-Try: Croissants, Mushroom Sandwich, Spanish Coffee
5. Cafe De Paris, Teynampet
Cafe De Paris is the perfect destination for a cold rainy evening. Its glass house ambience, adorned with pretty lights, creates a charming atmosphere. With an Instagram-worthy outdoor seating area, it's a great spot for capturing memorable moments. 
Located in the heart of the city, the restaurant offers a contemporary French-inspired menu with a wide range of delicious dishes. The warm and inviting atmosphere, coupled with the cosy and intimate setting ensures a delightful date night!
Where: 24, Cenotaph Rd, Teynampet, garden section, Chennai, Tamil Nadu 600018
Price for Two: Rs. 1100 (approx)
Must-Try: Mexican Cheese Balls, Nachos Super Bowl, Mezze Platter
Enjoy Premium Coffee with Levista!
If you enjoy cafe-hopping and going on dates with your partner, then we assume you also love some good coffee.
Experience the essence of South-Indian coffee with our meticulously sourced Arabica and Robusta beans. Carefully curated from our Coorg estates, these premium beans are blended to perfection, delivering enchanting flavours to satisfy your discerning taste buds.
At Levista, we provide you with the best coffee experience. From cold brews to a warm chocolatey cup of coffee, you can have a relaxed time with your significant other. 
Conclusion
The city of Chennai offers a delightful array of date spots for a romantic cafe date. Whether you prefer a cosy corner with dim lighting, a rooftop with breathtaking views, or a garden oasis, these cafes have it all. 
From unique decor and ambience to delectable menu options, each cafe has its own romantic appeal. So, why not ignite the spark of romance and create lasting memories with your loved one? 
Explore these five perfect spots for a romantic cafe date in Chennai, and let the magic of these stunning cafes whisk you away into a world of love and togetherness!
FAQs
How can I spend my anniversary in Chennai?
Celebrate your anniversary in Chennai by taking a romantic stroll along Marina Beach, enjoying a fancy dinner at a restaurant, or booking a couple's spa retreat at one of the luxurious resorts.
What is the minimum cost for a cafe date in Chennai?
The minimum cost for a cafe date in Chennai can vary depending on the establishment, but on average, you can expect to spend around 1000-1500 INR for two people, including beverages and food.
Do I have to pre-book your table in restaurants?
It is advisable to pre-book your table in most restaurants, especially during weekends or peak hours, to ensure availability and avoid any potential waiting time.
Where to have a candlelight dinner in Chennai?
For a candlelight dinner experience in Chennai, consider popular romantic spots like Bayview at Taj - Fisherman's Cove, The Wharf at Radisson Blu Temple Bay, or the Altitude Lounge Bar at The Accord Metropolitan.
What are some budget-friendly date ideas in Chennai?
Enjoy budget-friendly dates in Chennai by exploring the vibrant street food scene at Kora food street, taking a scenic walk at Elliot's Beach, watching a movie at a mall, or enjoying a relaxing time at Muttukadu boat house.