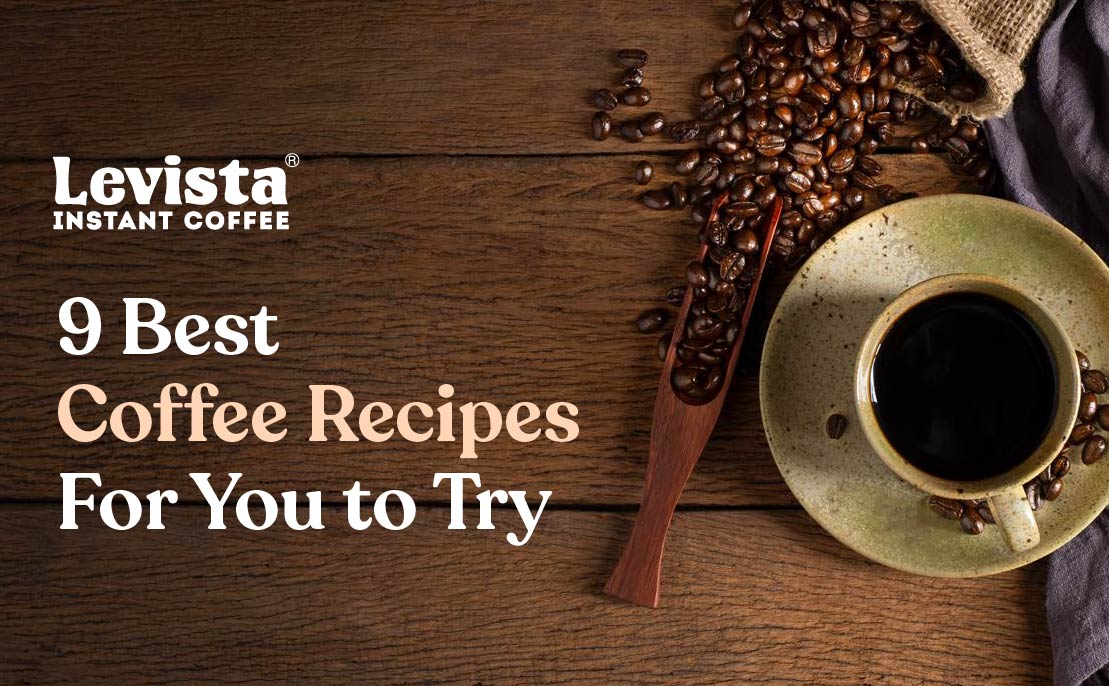 Coffee, Your Everyday Companion!
If you are a hardcore coffee enthusiast or enjoy a cup of joe occasionally, this blog is for you! The freshly brewed coffee's pleasant aroma, soothing warmth, and rich taste make it the perfect buddy for your hustle-bustle mornings and relaxed evenings. 
But is that all? Can we make any other recipes out of coffee other than the regular? Read till the end to find it out the different faces of coffee. We have listed 9 best coffee recipes you can make at home.
Here're The 9 Best Coffee Recipes To Try At Home!
Why settle for a regular cup of coffee when there are so many enjoyable recipes to try your hands on? With our 9 best coffee recipes to make at home using Levista, every day is special!
1. 
Cappuccino
The classic: the Cappuccino is a velvety-smooth coffee treat made with equal parts of espresso, steamed, and frothed milk.
Did you know?
Cappuccino originated in Italy and was named after the brown robes of the Capuchin friars.
Here's the recipe for Cappuccino.
Ingredients

1 shot of espresso

1/3 cup of steamed milk

1/3 cup of frothed milk

How do you make it?

Brew a shot of espresso and heat the milk over low heat until it starts to steam.

Froth the milk until it becomes airy and foamy. 

Pour the espresso and frothed milk into a cappuccino cup. 

To the top, add frothed milk, creating a creamy layer.

Sprinkle some cocoa powder or cinnamon on top for garnishing.
Tada! Your cappuccino is ready to serve. Enjoy your creamy goodness from the comfort of your home. 
2. Mexican Spiced Coffee
Are you ready to give your coffee a spicy twist in a Mexican style? We are sure the bold flavours of cinnamon, cocoa, and a hint of chilli will enthral you. Here's the recipe for Mexican Spiced Coffee.
Do you know?
The cinnamon helps regulate your blood sugar levels!
Ingredients

1 cup of brewed coffee

1/2 teaspoon of ground cinnamon

1/4 teaspoon of cocoa powder

A pinch of chilli powder

2 tablespoons of whipped cream (optional)

How do you make it?

Brew a cup of coffee.

Mix ground cinnamon, cocoa powder, and chilli powder.

Pour the brewed coffee and spice mixture and stir the coffee. 

To the top, add whipped cream for creaminess and flavour.
Your Mexican Spiced Coffee is all ready to serve. We bet your chilly mornings will never be the same with Mexican Spiced Coffee.
3. Moroccan Coffee
Do you know?
In Moroccan culture, coffee symbolises hospitality!
Ingredients

1 cup of brewed coffee

2 cardamom pods, crushed 

2 cloves

Sugar to taste

How do you prepare it?

Brew a cup of coffee. 

Add brewed coffee, crushed cardamom pods, and cloves, and heat it on low flame.

You can add sugar to sweeten the coffee as per your liking. 

Strain the coffee to remove the cardamom pods and cloves.
Sip your Moroccan Coffee with the delightful aroma! 
4. Mocha Cooler
The sun is scorching hot, and are you looking for a way to cool down and beat the heat? Abracadabra! Why fear when Mocha Cooler is here? Don't you want to taste the goodness of coffee, chocolate, and milk? Let's see how to make it.
Do you know?
Mocha originally hails from Yemen!
Ingredients

1 cup brewed coffee, cooled

1/2 cup of milk

2 tablespoons of chocolate syrup

Ice cubes 

Here's the recipe!

Brew a cup of coffee and cool to room temperature.

In a glass, put ice cubes, pour the cooled coffee and milk over and stir it continuously until mixed properly.

To the top, drizzle the chocolate syrup.

Now comes the vital part; stir the coffee to create a mocha swirl. 
There you go! Your refreshing Mocha Cooler is all ready to enjoy. 
5. Vietnamese Coffee
Visiting Vietnam would be a bucket list tick-off dream for many! But how many of you have tasted its coffee made uniquely? Do you want to know the secret of making it? Read further. 
Do you know?
After Brazil, Vietnam is the second largest coffee producer in the world. 
Ingredients

2 tablespoons of sweetened condensed milk

1 cup of brewed Vietnamese coffee

Ice (optional)

Here's the recipe!

Prepare a coffee using a traditional drip filter called a "phin". (This is the speciality of Vietnamese coffee)

In a glass, place the sweetened condensed milk in the bottom and pour the coffee prepared using phin into the glass. 

Stir well until the coffee thoroughly mixes with the condensed milk.
That's it! Your Vietnamese coffee is ready to serve. If you desire an iced coffee, add ice to it. We are sure you will love the unique flavour of Vietnamese coffee.  
6. Cuban Coffee
We are sure your coffee ritual will get better with Cuban coffee. Let's learn how to make it.
Do you know?
Cuban coffee is also known as Cafecito or Cuban Espresso. 
Ingredients

1 shot of espresso

2 teaspoons of sugar

How to try it at home?

Brew a shot of espresso.

In a cup, add sugar and brewed hot espresso. 

Stir continuously for the sugar to dissolve and the coffee to form a frothy top layer.
That's all! Cuban coffee is the most effortless coffee you can make at home with just two ingredients. 
7. Irish Coffee Cake
We know what you are thinking now- Aren't there any other recipes to try out of coffee? Well, try this Irish Coffee Cake at home with simple ingredients. 
Do you know?
Irish Coffee is basically a cocktail that includes hot coffee, Irish whiskey, and sugar, topped with thick cream!
Here's what you need!

1 cup of strong brewed coffee, cooled

1/4 cup of Irish whiskey

1 box of chocolate cake mix

3 eggs

1/2 cup of vegetable oil

Whipped cream for topping

Here's how you make it.

Follow the instructions given in the cake mix box and preheat the oven accordingly.

In a bowl, put together chocolate cake mix, brewed coffee, Irish whiskey, eggs, and vegetable oil. 

Next, beat the mixture until you get a smooth and well-combined consistency using an electric mixer.

Everything is ready, and all you have to do is bake the cake accordingly to the package instructions.
Once the cake is cooled down, top it with a dollop of whipped cream. Your mouthwatering Irish Coffee Cake is ready to serve. Cut it into slices and enjoy the dessert.
8. Coffee Ice Cream
If you do not like cakes, try this Coffee Ice Cream at home! We are sure you will love the luscious and creamy frozen delight!
Do you know?
The National Coffee Ice Cream Day is celebrated on September 6th.
Here's what you need

2 cups of heavy cream

1 cup of whole milk

3/4 cup of granulated sugar

1/4 cup of strong brewed coffee

1 teaspoon of vanilla extract

Here's how you make it

Take a bowl and mix all the ingredients, the heavy cream, whole milk, sugar, brewed coffee, and vanilla extract and whisk it together.

Transfer the mixture to an ice cream maker, and churn it well until it becomes a creamy consistency.

Now, freeze it for at least 2 hours in a lidded container. 
Your delicious Coffee Ice Cream is ready to enjoy! Scoop it and taste the goodness of creamy coffee.
9. Espresso Pancakes
Do you like to have pancakes for breakfast? Then, let's add a coffee twist. For energising morning food, have fluffy Espresso Pancakes! 
Do you know?
You need 35 to 40 coffee beans to make one shot of espresso!
Ingredients

1 cup of all-purpose flour

2 tablespoons of granulated sugar

2 teaspoons of baking powder

1/2 teaspoon of salt

1 cup of milk

1 shot of espresso

2 tablespoons of unsalted butter, melted

1 large egg

Here's how you make it!

Take a bowl and put together the flour, sugar, baking powder, and salt. Whisk it to mix it thoroughly. (first bowl)

Take another bowl and whisk the remaining ingredients, milk, espresso, melted butter, and egg. (second bowl)

Add the second bowl of ingredients to the first bowl and stir it to mix. You will have a slightly lumpy batter consistency.

 

            Your coffee pancake batter is ready! 




Take 1/4 cup of batter to make each pancake and cook until you can spot bubble-form on the surface. 

Flip and cook on the other side until turned golden brown.
We bet that children to adults will become fans of these Espresso Pancakes. 
Why Choose Levista Instant Coffee?
You don't need to travel to Coorg to have authentic coffee. Levista brings India's coffee capital's flavour, heritage, and legacy to your coffee mug!
Levista's high-quality, hand-picked coffee beans elevate your coffee experience. It has a wide selection of coffee blends, including classic and distinctive flavours like hazelnut, caramel, and vanilla.
You may now make your favourite blend at home with Levista instant coffee powders, which give you a rich and tasty cup of coffee. With every sip, you can enjoy freshly brewed coffee. Buy your favourite Levista pack now!
Conclusion
These 9 delightful coffee recipes will awaken your taste buds and take your coffee experience to another level. So next time you want a coffee break, try these different recipes at home. Happy brewing, happing sipping, happy eating, coffee enthusiasts. 
FAQs
What are the four types of coffee beans?
Here're the four types of coffee beans: Arabica, Robusta, Liberica, and Excelsa. The most popular ones are Arabica and Robusta.
What is the secret to a good coffee?
A balance of high-quality and freshly roasted beans, proper brewing technique, and attention to detail are the secrets to good coffee.
What are the tips for a healthier coffee?
Try replacing processed sugar with honey or cinnamon. You can also choose low-fat or plant-based milk options. Always use organic beans and filtering methods to eliminate potentially harmful components.
What is the best time to drink coffee?
The best time to drink coffee is in the morning to help regulate alertness. You should avoid coffee consumption too close to bedtime to ensure a good sleep.
Can you drink coffee daily?
Consuming moderate amounts of coffee is considered safe for most people. It helps improve cognitive function and reduce the risk of certain diseases. However, excessive consumption may lead to negative effects like disrupted sleep and increased heart rate.